Great Anniversary Gift
& Family Reunion Gift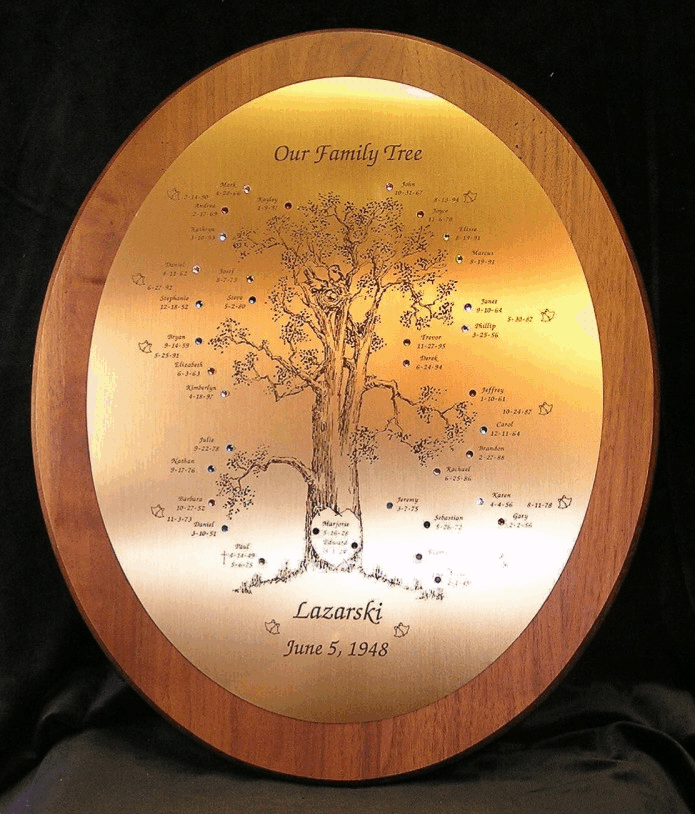 Great for Anniversaries, Mother's Day
or a Christmas Family Gift!

Celebrate your family with a Family Tree Plaque. This Family Tree will be treasured for years to come. Since all families grow, you can return it and have the additions added to the Family Tree for a small fee. It will never go out of date.

To place the names around the tree - think how a tree grows. Each major branch is a child. Lower branches are the older Children. The smaller branches off each child are the Grandchildren and the person they married.
The Family Tree Plaque is a great way to show your family how much they mean to you. Given to your parents, grandparents, husband or wife, it is sure to be an elegant and lasting remembrance of what they cherish most - Family.

Your Family Tree Plaque is beautifully engraved with everyone's name and birth date, and beside each name is their sparkling birthstone. Marriage dates and symbols may also be included. The engraving is mounted on a richly finished walnut oval ready to display in a place of honor.
How long does it take to make?
Plan on about two weeks for production and delivery. The big work is you getting all the information together and putting it on a worksheet you FAX or email to us. We will send you a PDF file of the lay-out for your approval. Once we have your approval, it will be just days before you receive one of the most beautiful gifts you could possible give a family member. Your Family Tree Plaque will become a precious family heirloom for years to come. Dates and name will never be lost for future generations!
For ordering information and family tree forms to fill out, please click the link below!
http://www.engravecon.com/familytrees.htm
Engraving Connection
1205 S. Main St.
Plymouth, MI 48170
877-829-2737
877-8-AWARDS
etched@engravecon.com